Note: Documents you submit to the board are available to the public on request, subject to limited exceptions.
Important Notice
July 2, 2021
Navigate Tribunals Ontario, is a convenient online tool that empowers users with information about their rights and responsibilities and tribunal specific rules and processes. Try it out!
June 21, 2021
The LTB has expanded access terminals to three more hearing centres for parties who require access to a computer, phone, and/or the internet to participate in their hearing. Learn more about access terminals.
LTB e-File
---
File more quickly and avoid mistakes and delays. Submit these applications online using LTB e-File:
Form L1 - Application to Evict a Tenant for Non-payment of Rent and to Collect Rent the Tenant Owes
Form L2 - Application to End a Tenancy and Evict a Tenant
Form T2 - Application about Tenant Rights
Form T6 - Tenant Application about Maintenance
For all other forms, see Forms.
The e-File tool will guide you through the application, step-by-step. You will also be able to schedule the first available hearing date and pay your application fee on our secure site.

e-File your application now.
Watch:
e-File with the Landlord and Tenant Board: A Video Guide
. The video is narrated and includes captions.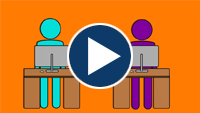 Read the video transcript (HTML)
.
Technical Notes: To use LTB e-File, your computer must have Chrome, Internet Explorer (version 9 or higher), Firefox or Safari. You must also have Adobe Reader (version 8 or higher) to open, save, or print copies of your completed application forms. You can download this free software from Adobe's website.